April 25, 2016
Dr. Suhas Kshirsagar Explains How Ayurvedic Medicine Promotes Health And Happiness In New Tao – Living In Balance Videos
Ayurvedic Medicine is an ancient science which originated in India over 5,000 years ago. In Ayurveda, health is defined as the dynamic state of balance between mind, body, and environment. Ayurveda treats the whole individual and balances the body through diet, exercise and lifestyle therapies for optimum health and happiness.
Ayurveda explains that human beings are made up of each of the five elements: space, air, fire, water and earth. In newly released videos about Ayurvedic Medicine, Tao – Living in Balance expert, Suhas Kshirsagar, M.D., explains, "From an Ayurvedic perspective, we subdivide the five elements into three Doshas: Vata, Pitta and Kapha. Every function and activity of the mind and body is dependent upon the balanced or unbalanced state of these elements." He adds, "Whatever you do to take care of your body is equally beneficial to help your mind, and whatever you do to keep your mind healthy and happy, is equally good for your body."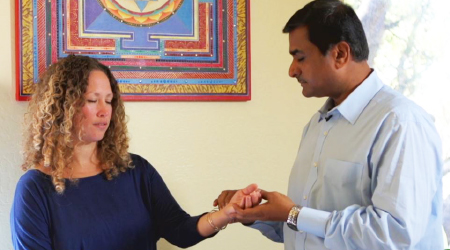 Dr. Suhas Kshirsagar checks the pulse of a patient.
Dr. Suhas says that Doshas are invisible and need to be assessed from symptoms. An Ayurvedic Medicine doctor uses several diagnostic techniques including checking the pulse, eyesight, appearance and the condition of the tongue. This information is used to make the most nourishing choices for a health, balanced life.
Edmund Jin, Tao – Living in Balance Executive Producer, states, "We are happy to share this knowledge and hope that viewers may seek out an Ayurvedic physician to learn more about the health benefits of living balanced life."
Tao – Living in Balance is a new video/TV series which explores ancient healing traditions and energy medicine and includes interviews and suggestions that inspire and empower viewers to reach a higher state of wellness - to live a more balanced, healthy life.
Scheduled Featured Experts include:
New York Times Best-selling Author, Andrew Weil, M.D.
New York Times Best-selling Author, John Gray, Ph.D.
New York Times Best-selling Author, Marci Shimoff
Internationally Recognized Authority on Heart Coherence, Rollin McCraty, Ph.D.
Best-selling Author and Ayurvedic Physician, Suhas Kshirsagar, M.D.
Energy Medicine Pioneer and Author, Donna Eden
World Religions Professor and Author, Ismana Carney, Ph.D.
Internationally Known Sound Healer and Teacher, Diáne Mandel
Leading Pioneer in Flower Essences for Animals, Sharon Callahan
Internationally Recognized Leader in Energy Psychology, David Feinstein
Reiki Master and Lineage Bearer of Usui Shiki Ryoho, Phyllis Lei Furumoto
Reiki Master and Intuitive Energy Teacher, Jeanine Sande, MBA
Links to videos: