Healing Energy with Animals and Pets
Animals play many important roles in our lives. They provide comfort and companionship. When we use a heart-centered approach to evaluate the health and healing needs of animals, we can learn which energies may be out of balance and then help our animal friends to live a healthier, balanced life.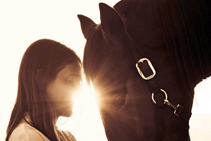 There is no doubt that there are energetic interrelationships between animals, humans, the environment and health. This special connection can work both ways – just as we can use energy medicine to heal animals, animals can help humans, too. Their unconditional love crosses all boundaries and barriers, and because they don't process information or become judgmental, many times their messages can be clearly understood and interpreted.
Equine therapy is widely practiced and has helped people all over the world. Michael McKibban, an Equine Conscious Learning Facilitator, says "Horses have been with us through the ages. I believe when we partner with horses and tune into our hearts, we will receive the sacred messages they hold for us."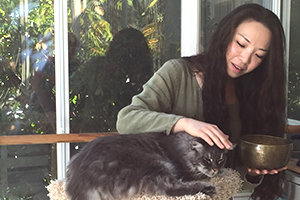 Nina Jin treats Angel to a Sound Vibrational Session.
In this episode, Edmund Jin will meet with Michael McKibban who will guide a horse therapy session. Viewers will learn how to communicate and connect with animals and pets. Animal communicator, Sharon Callahan, demonstrates the many ways we can communicate with our pets and tune into their true source of healing, supreme love.